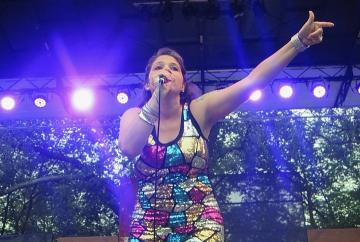 by BRIAN SLATTERY | Jun 18, 2017 - New Haven Independent
There was no particular sign that the New York City-based Fulaso was going to be a party band when it took the stage at the International Festival of Arts and Idea's first big show on the Green Saturday evening.
The trombone player blew a few notes into his microphone. The band members took their positions. Someone counted off. "One, two." And boom: instant groove.
"Now I like salsa, and I like the mambo too," singer Erica Ramos crooned. "but nothing gives me that fever like doing the bugaloo."
Fulaso, which is an acronym for "funky Latin soul," does just what its name implies. It combines Latin rhythms with funk and R&B to produce a sound that lets the band roam from beat to beat while still keeping things tight. But the "fu" in Fulaso also stands for "fun." The people in the 10-piece band — Erica Ramos on lead vocals, Juan Sebastian Bowens Rodriguez on keys, Patrick Hall on trombone, Michael Irwin on trumpet, Mario Padrón on bass, Charley Rodriguez on timbales, Dawn Drake on congas, Maria Eisen on baritone sax, Stefan Feniuk on tenor sax, and Juan Carlo Lampreia Rodriguez on percussion — flashed one another smiles constantly as they dug into their set, encouraging each other as they soloed, and moving about the stage to be closer to one another when the music got particularly knotty. But Ramos also proved a consummate frontwoman. When she wasn't singing, she danced across the stage, engaging the audience every second of the way.
And Ramos's banter in between songs was almost as entertaining as the songs themselves. To introduce a song about, yes, bodega cats, she began: "I haven't been to a lot of corner stores in Connecticut, but I was wondering if they have cats in them."
"Yeah! Yeah!" someone yelled from the front of the crowd. By then, halfway through the set, Ramos had her audience in the palm of her hand.
"And they keep out all the rats!" she said, to widespread laughter, before launching into the song itself — one of the strongest in a strong set that ended with an old-school R&B call-and-response singalong, followed by a smoking cover of Nina Simone's "Feeling Good."