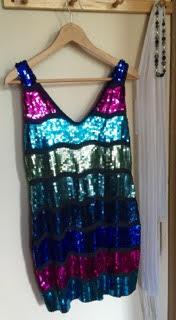 The Mermaid $80 ($70 + $10 S&H, accessories not included)
Like a mysterious and mystical mermaid, you will glide through the room in this incredibly comfortable and colorful cocktail dress.
This dress has been on WNYCs Battle of The Bands and on stages all over NYC and up and down the east coast.
One of the most difficult to part with, this dress forever has a special place in my heart. I hope it serves you in the same beautiful way!